Arson is a complicated crime that is taken very seriously by prosecutors in Arizona. Often people who are charged with starting fires in the state are diagnosed with mental illnesses.
Deliberately setting fire to property constitutes arson under Arizona law. A defendant commits arson of a structure or property when he or she knowingly and unlawfully damages a structure or property by causing a fire or explosion.
Arson of a structure is a class 4 felony in Arizona when the property has a value of more than $1,000. Arson of a property is a class 5 felony if the property was valued at more than $100 but under $1,000. If the property is valued at $100 or less, the offense is a 1 misdemeanor.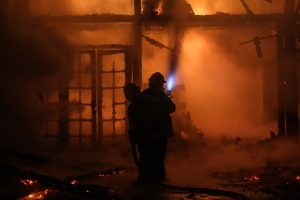 When the arson is committed against an occupied property, the penalty is more severe. A charge of arson of an occupied structure is brought when a person sets fire to an occupied structure by "knowingly and unlawfully damaging an occupied structure by knowingly causing a fire or explosion." The arson of an occupied structure is charged as a class 2 felony.
It makes sense for Arizona to have harsher penalties for arsonists who place people in danger which is why setting fire to an abandoned building is treated less severely than burning a building where people are sleeping.
People who start fires in Arizona can also be charged with reckless burning. The offense is less serious than arson but can still land an offender in prison.
A reckless burning charge may be brought against people who did not intend to start a fire but whose reckless actions were to blame.
A fire in Arizona was recently in the news when a baby gender reveal party went wrong, causing a wildfire that burned nearly 47,000 acres and caused over $8 million in damage.
A video shot in April 2017, showed a makeshift target with the words "Boy" and "Girl" written on it. It was placed in the desert near Green Valley, Arizona, south of Tucson.
Explosives were ignited giving off a blue cloud for a boy. Unfortunately, the gender reveal stunt started a massive wildfire.
An off-duty US Border Patrol agent pleaded guilty this fall to a misdemeanor violation of US Forest Service regulations. He was sentenced to five years' probation.
In other cases, arson and reckless burning charges have been brought against homeless people who started fires that damaged property and people suffering from mental illnesses.
If you or a family member has been charged with arson, you should hire an experienced Arizona criminal defense lawyer who can get to the root of a defendant's motives. Call an arson criminal defense attorney at the Garcia Law Firm today at (602) 340-1999.