The criminal justice and mental health services in Arizona often fail to help people with psychological problems until it's too late. Recently, police said they struggled to deal with death threats from a man accused of killing a deputy U.S. marshal.
Ryan Schlesinger is the suspect in the killing of 41-year-old Chase White last November. The official was shot dead while serving a fugitive warrant in Tucson.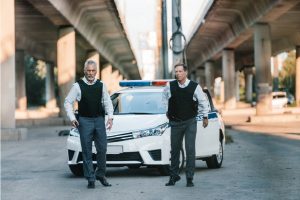 Officers said they struggled to deal with alleged threats and mental health issues related to Schlesinger for more than a year, according to a report in AZCentral.  In late August 2018, officers went to Pima County Justice of the Peace Court to request harassment injunctions against Schlesinger and another man who was frequently seen by the police department's mental health unit, according to the media report. It's an unusual move by police officers.
Police said the men had allegedly harassed officers assigned to the mental health unit. At the hearing, before Justice of the Peace Paula Aboud, Sgt. Jason Winsky, who heads up the mental health unit, said his team investigated alleged threats and the mental health status of Schlesinger.
Aboud granted the injunction requested by the cops. It also prevented Schlesinger from possessing firearms.
Officers tried to get an order forcing Schlesinger into mental health treatment after the granting of the injunction but were ultimately unsuccessful. The AZ Central report stated they obtained an arrest warrant against him for stalking one of the two officers whose family members' home he had visited.
Cops said they were concerned about Schlesinger's behavior. Winsky testified in August 2017 that officers tried to contact Schlesinger and he barricaded himself in the house.
Sadly, the mental health and criminal justice systems in Arizona often fail to intervene until it is too late. People who have mental health issues may not get a fair trial.
It's unfair for the criminal justice system to punish someone who lacks full control of his or her mental faculties. In any criminal proceeding, all of the circumstances related to a defendant's behavior must be considered by the judicial system.
If you or a family member has a mental illness and is facing charges, please contact our Arizona criminal defense lawyers as soon as possible at (602) 340-1999.