Arizona has some of the most liberal gun laws in the United States. However, its reputation for having few rules can land some people in trouble with the law. There are restrictions and many people fall foul of Arizona's gun control laws.
Under Arizona law, any person 21 years or older, who is not a prohibited possessor, is able to carry a weapon openly or concealed without the need for a license.
In this respect, Arizona is different from many other states that require a concealed carry permit.
To obtain a concealed-weapons permit, you must be 21 or older, and a legal U.S. resident. You must have no felony convictions or mental illness.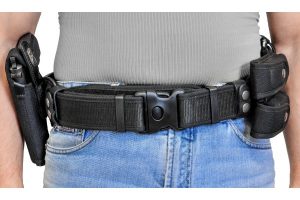 Arizona's gun control laws state the holder of a firearm must complete a firearms safety course. The state does not set out minimum requirements for the course and hands-on training with a gun is not necessary.
Arizona's Gun Control Laws and Mental Health
Under federal law, certain people are prevented from buying or possessing firearms. They include felons, people with a domestic abuse conviction and certain people with a history of mental illness. The provisions relating to firearms and mental health can be confusing.
You are prohibited from buying or possessing a gun in the following circumstances:
You have been found to be a danger to yourself or others, you are acutely or persistently disabled or gravely disabled as set out in a court order, and your right to possess a firearm has not been restored;
You have been found incompetent, and not subsequently found to be competent.
You have been found guilty except insane.
Gun Control Laws and Convicted Felons
Arizona prevents you possessing a firearm if you:
Have been convicted of a felony or adjudicated delinquent for a felony and your civil right to possess or carry a firearm is not restored;
You are serving a term in a prison or any other correctional or detention facility;
You are on probation for a domestic violence offense or a felony offense, or community supervision, parole, work furlough, home arrest or release on any other condition.
You are an undocumented alien or a nonimmigrant alien lacking documentation in Arizona.
Firearms are banned in certain places in Arizona. They are:
At correctional facilities
At a liquor retailer when a sign prohibiting weapons is posted;
On grounds of any school
At polling places on election day
At hydroelectric or nuclear-generating stations.
Any event open to the public if the operator makes a reasonable request for you to hand over or remove a weapon from the premises. A sign qualifies as a request. Cities and counties are required to offer on-site storage for guns if a request is made.
Facilities where firearms are banned by federal law.
Firearms Banned Under Arizona Gun Control Laws
Although Arizona has permissive gun control laws, some firearms are banned. The state outlaws automatic weapons and rifles with a barrel less than 16 inches or a shotgun with a barrel less than 18 inches.
Modified rifles and shotguns with an overall length of 26 inches are banned along with guns made or adapted to reduce the sounds of the firearm. Arizona bans firearms capable of shooting one or more shots automatically without the need to manually reload the gun.
As in other states, a wide range of other weapons is banned in Arizona, including bombs, mines, grenades, and improvised explosive devices.
There is a wide range of potential sentences for firearms violations in Arizona. If you possess a weapon when you are prohibited from carrying a firearm, you may face a class 4 felony, carrying 2.5 years to 3 years in prison.
When people fall foul of Arizona's gun control laws, they are often unaware they are doing anything wrong. At the Garcia Law Firm, we have helped people with mental health issues who are charged with firearms offenses. This is a complicated area of the law. Please call us today at (602) 340-1999.